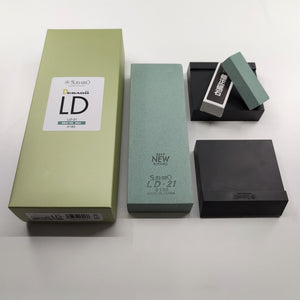 This #180 grit whetstone is suitable for repairing chips, restoring a blade's profile, and thinning the primary bevels of a blade. A fast whetstone, but also relatively dense compared to many other coarse whetstones available - which allows it to hold its shape well during sharpening. Great for flattening bevels but still has enough give to it's surface for shaping a mild convex. The resulting scratch pattern is consistent, clearly visible and relatively shallow despite the speed of this stone. Works very effectively with a small amount of slurry on the surface. Highly recommended.  
Size :  206 x 72 x 29 mm
This whetstone comes with a small stone for reconditioning the surface and generating slurry, as well as a rubber base.
Although this is a splash and go whetstone, for the first use, we recommend running water over the surface for a few minutes, or even soaking it for a minute or two. Do not leave the stone submerged in water for a prolonged period. 
Suehiro LD #180 Grit
Super fast delivery.
First impressions are great. The stone cuts fast, and doesn't dish easily. Awesome low grit stone
Suehiro 180
Super fast cutting, pretty hard for a course stone and can be flattened easily with an atoma 140. I've been thinning stainless with it and it's cut my thinning time in half. Stoked.
Underrated stones
One of the best rough synthetic stones on the market. Really great for thinning or fixing edges and definitely a stone to pick up!
Suehiro 180, 320, 600
Amazing stones, amazing service! I recommend Migoto!
Great course stone
So far I have only used this stone on single bevels, but I believe it is very true to its description. It cuts very fast, dishes very slow which can be a big problem for a lot of course stones, and produces a nice even scratch pattern. It is very practical stone if you need something to remove chips or flatten a bevel. Because of this it severs as a great jumping off point in a sharpening progression.