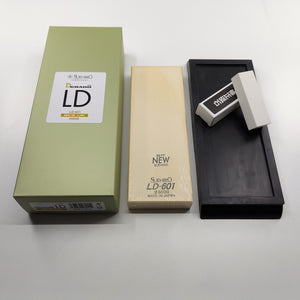 A finishing stone that possesses a great balance of speed, density and wear resistance. It absorbs very little water which makes the abrasive mud slick for a pleasurable sharpening experience and great results. Ideal for a polished edge with fine teeth, and also creates a finish that transitions very well to fine natural stones if desired.
Size : 206 x 73 x 23 mm
This whetstone comes with a rubber base as well as a small surface reconditioning stone. Only a small amount of water is required to begin sharpening. The included reconditioning stone is useful for removing coarse scratches from the surface of the main whetstone, however, we recommend rinsing away the resulting slurry before sharpening in order to avoid mixing grits.
Though it is not completely necessary, lapping the stone with Atoma #600 and sharpening with some of the generated slurry will give even faster and cleaner results.