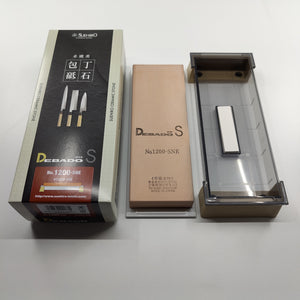 Developed for professional use, the Debado SNE whetstones are Suehiro's top of the line series for knives. Slightly harder and more wear resistant than their many other product lines, yet still fast cutting and easy to use. This medium grit whetstone creates a small burr giving a clean toothy edge. Also good for sharpening the primary bevel - establishing a good base for a contrasting finish on clad knives, and a clear scratch pattern for brightening the core steel on finer grit whetstones. 
Size : 205 x 73 x23 mm
Only a small amount of water is required to begin the sharpening process. Each whetstone comes with a small surface reconditioning stone as well as a base.
Although Suehiro's slightly confusing product code for this whetstone is No.1200-SNE, this is definitely a #1000 grit stone.
Easy to use and gives great results
The stone is ridiculously easy to use and leaves a great base finish for further polishing
1K title contender
I believe from Lee that these Debado stone were made very specifically with kitchen knives in mind and it certainly shows. First of all I can generally do without stands on stones but this has clearly had a bit of design thinking chucked at it and it really works. It is a useful container to store the stone in under the sink when not in use and the design of it as stand is really clever. It holds the stone perfectly still and clings to smooth kitchen tops. Ticks all round. Does it do what it says on the tin? Oh yes!! This is very, very effective at re-edging fatigued edges and quickly makes a small and orderly burr that is relatively easy to remove. It's equally adept at the gummier incarnations of VG10 on entry level Japanese knives which can be a little tricky on some other stones. But where it comes roaring to life is on better steels from crisp simple carbons to more wear resistant versions and powder steels. I can't recommend these highly enough, I've been rocking an edge off one of these on my favourite knife for two weeks now and I usually finish my edges on natural stones, it's that good. Many thanks again Lee for bringing these to Australasia and by extension NZ.