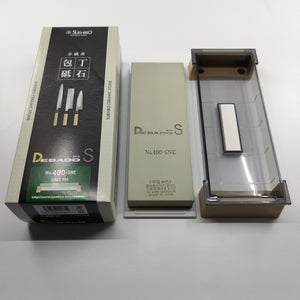 Developed for professional use, the Debado SNE whetstones are Suehiro's top of the line series for knives. Slightly harder and more wear resistant than their many other product lines, yet still fast cutting and easy to use. This whetstone is suitable for recreating an edge on very dull knives, as well as minor chip repair. Ideal for rough sharpening of a gently convex bevel, but for a significant amount of metal removal, we recommend a coarser whetstone such as the Suehiro LD #180.
Size : 205 x 73 x 23 mm
Only a small amount of water is required to begin the sharpening process. Each whetstone comes with a small surface reconditioning stone as well as a base.
Although Suehiro's slightly confusing product code for this whetstone is No.400-SNE, this is definitely a #320 grit stone.
A great stone
The feeling and characteristics of this stone are extremely unique. It cuts extremely fast, has great feedback; however, produces only nice brown mud, no black smurf. This is nice because there is no clogging of the grain requiring you to constantly refresh the stone. Also, despite producing a medium amount of mud it was very easy and quick to re-flatten on an Aotoma diamond plate. All in all in I think it is a great coarse stone that is very easy to use and get good results with.
Great workhorse
Couldn't agree more with the description - absolutely perfect for re-edging knives whose edges have had it and for the little dings and chips sustained through rougher or high volume work. I found the burr to be easily formed on a variety of steels including some of the trickier modern super steels. It sets the edge up beautifully for further refinement. As for polishing it leaves an honest finish on wider bevels and can be used very successfully to introduce convexity to a bevel.
Great recommendation
Best 320 grit stone I've ever used. Top recommendation from a top polisher. Highly recommend it!